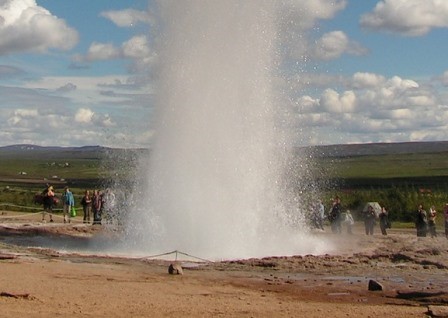 For landscape lovers and those with a spark of adventure, Iceland is not a place you want to overlook. The second largest island in Europe, its array of stunning waterfalls, fjords, peaceful, yet tangled wilderness and entrancing volcanic activity provides plenty to please.
Whether for a holiday, study or exploring, here's some top sights to see in this under-rated country to include on your itinerary:
Huge Glaciers and Mountain Tops
By its flowing waters, Iceland has some of the biggest glaciers in Europe and are hypnotising to see. Alongside these in the waters, you can take part in some fantastic activities, including rafting, fishing – even diving if you're really up for it! Iceland's incredibly vast and largely untouched landscapes mean you can really enjoy some great experiences and activities, including diving, fishing, rafting, trekking – even sliding along in a snowmobile if you wanted to!
Snæfellsjökull National Park
This park was the first to be founded in Iceland and proudly stands at the bottom of both a volcano and glacier, making it rather special. From this park, you can get is situated on the Snæfellsness peninsula and helps to protect some of Iceland's very unique features and wildlife. Its particular top spots include the hidden waterfall, Rauðfeldargjá, Djúpalónssandur beach, Saxhóll volcano crater and Lóndrangar, two huge lava formations.
Waterfalls
A lavish and rich variety of waterfalls splash out from different places to marvel your mind. There's the Hraunfossar that streams out from underneath a lava field and extremely high waterfalls, such as Glymur. All of these add to the natural features that have formed from the development of Iceland's landscapes.
Reykjavik
You can never miss the capital city of any country you visit, and this is no exception. Unlike a typical looking city, Reykjavik has an extraordinary view stretching round of mountains, skylines and fjords, making it more memorable. While you're there, make sure you see Mount Úlfarsfell, which has some marked trails to follow, presidential home Bessastaðir and Mount Esja, for a higher climb.
The Blue Lagoon & Hot Lava Springs
While going to Reykjavik, another place of interest is this lagoon, on the Reykjanes peninsula, which is an outstanding piece of natural pleasure with its deep waters naturally heated. Many people like to bathe in its waters, benefiting from the water's mineral resources. Visited by many thousands of tourists worldwide, the lagoon is a natural pool that is warmed naturally and kept heated by natural sources of the earth forces, such as bubbling volcanoes, from far below the earth's surface.
Iceland has other natural, hot springs that are located out across the country natural pools that are warmed by the heat from lava below. These have been long made a tourist attraction and are highly popular. Popular destinations for hot springs include Landmannalaugar, Reyjavnik's popular Nauthholsvik Geothermal Beach and the Secret Lagoon, in a small village called Fludir. Of course, there are many more to experience.
National Museum of Iceland
Presenting more than 2,000 objects for visitors, which date back to the very first settlement days of Iceland to the present day, the museum has many visitors each year, fascinated how this sizeable country began its days. Seeing the many available photographs for yourself to find out how Iceland used to be, comparing to how it has developed today is a fascinating find.
The Golden Circle
This area comprises of three particular locations, which are the stunning but powerful Gullfoss Waterfall, two central geysers and Þingvellir National Park, which are astounding to watch. The park is names after its lake, and contains a host of other rivers and waterfalls. These are best visited while in Reykjavik, as they're all based in the surrounding areas.